Arkansas Pet Resort is a locally and family owned business, established in 2007. It is part of the family who has Chenal Pet Palace in West Little Rock. Opened at the time, as a new and exciting alternative to boarding your pet while away. We began with a simple idea: why not make a boarding experience that is more like a second home than a sterile environment.
Throughout the years, we have strived to make your pet feel at home. From the one-on-one attention that every guest receives to the all-inclusive, luxury themed suites, we are your pet's choice.
Our facilities were designed with the discerning pet in mind. We strive to create an environment that's friendly and comfortable to our guests. Our suites are rooms just like in your home. Each one is decorated and contains a cot-like bed plus a television.
We like for our guests to play! We take all guests outside to play and meet friends throughout the day.
Thank you for visiting our website. As always, you are welcome to come by for a tour to meet our staff and to see the place where your pet will be staying.

Arkansas Pet Resort Canine Suites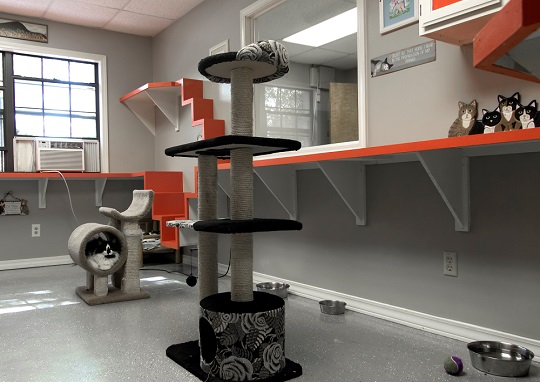 All our feline guests stay in a cat condo
(which measures about 3x3x6).
All guest will be locked in their condo for a night or two.
Once they are acclimated to our environment and our other cat boarders, we let the guests out to freely roam the cat room.
Condo (overnight stay): $26.00
Discount cat boarding at the same time as dog: $18.00